Aumida was created with a value led vision for success and the desire to focus on quality service, relationships and personal development.
I've worked in recruitment for 10 years. I began my career with a leading global commercial agency, learning all about this business of recruitment and discovering that I had quite a talent for it. I won a whole bunch of awards and was consistently in the number 1 or 2 spot for the South East. I then moved into more specialist roles and worked for small to medium sized agencies in the City in education, professional services and the not-for-profit sector.
In my previous life, before recruitment, I worked in education as an SEN Teacher. It was quite a career change and in all honesty I didn't expect to be very good at recruiting. I've never seen myself as a sales person. However, over the years I've realised that what I want to do is very simple. I want to help people. This has been my approach throughout my career and I've never tried to sell for the sake of selling. I've always just been me and tried to help as best I can. I attribute my success over the years to the very simple fact that people see that when we work together and know they can trust me.
In recent years I've discovered a huge passion for coaching and creating Aumida has given me the opportunity to help people in a different and very meaningful way. The skills I've developed as a Coach have also enhanced my performance as a Consultant.
The meaning behind the name ...
I took a leap in 2016 to fulfil a lifelong dream to travel. I put my belongings into storage, waved goodbye to friends and family and off I went. I travelled independently in India, Nepal, Borneo, Bali, Sri Lanka and Oman. I exchanged life as I knew it for the unknown. Aumida is a result of my reflections and the liberation I experienced on my journey and every day since.
Aumida is a combination of two words, representing both the recruitment and coaching sides of the business.
Aum & Ida
Aum and the colour purple – represents highest potential and expanded awareness.
Ida and the moon shape – Ida is an energy channel (according to ancient Sanskrit texts) associated with compassion and nurturing.
Mission
To partner with clients in a truly consultative way and for Aumida to be recognised as a recruitment business that's about quality not volume sales.
To set a new standard in the industry focusing on connection and personal development.
Intention
To demonstrate through activities and actions the aim to change lives, inspire and have a positive impact.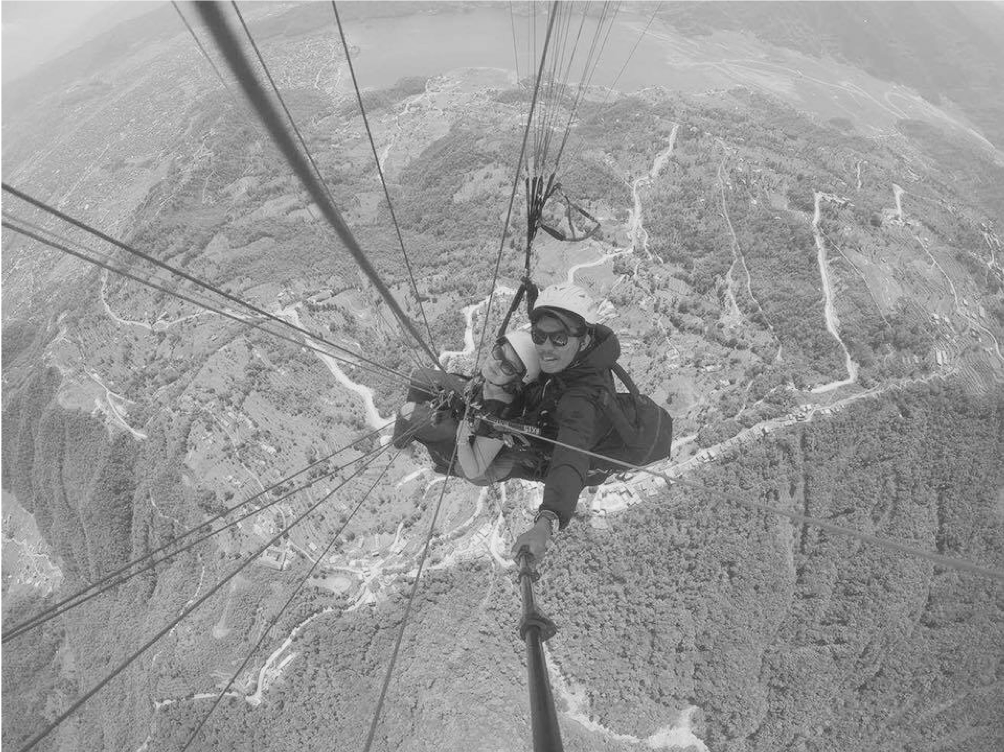 (This is me paragliding in Pokhara Nepal)
Thank you for visiting my website and I look forward to working with you.
Best wishes
Bev